I've heard good things about the show
Friday Night Lights
, but as with most shows, I'm
hesitant
to jump in mid-stream. Luckily Bravo was showing a marathon of the season thus far on Saturday, so thanks to my trusty
DVR
I was able to catch the first half-season in a weekend. The show itself is pretty good, and my main criticism of it thus far is the ridiculous scripted play-calling within the games (at one point, facing a crucial 4
th
-and-1, the
fictional
Dillon Panthers run a ridiculously stupid double reverse. Another time, trailing in the final seconds, the team runs two straight sweeps. Is Mike
Martz
their offensive coordinator?)
Alas, my criticism that the play-calling within the show are too far-fetched to be believed may take a backseat this morning, after witnessing the real-life insanity of the Fiesta Bowl. A quick rundown of the finish to a game that Hollywood could never recreate.
Oklahoma, down by 8 with 1:30 left, scores a touchdown. The

Sooners

then throw an incomplete pass on the 2-point conversion, but Boise St. is called for a penalty. On the retry the

Sooners

convert, but are flagged for a penalty of their own. They follow by succeeding on their 3rd try and tying the game.
On the next play from scrimmage, Boise State's quarterback throws a terrible pass right to an Oklahoma DB, who runs it back untouched for TD, putting

OU

up 35-28 with a minute left.
Boise State rebounds and drives to midfield with time running out and facing a 4

th

-and-18, when the Broncos pull out the hook-and-ladder and it works to perfection for a game-tying touchdown with 7 seconds left. Just insane. But it gets better

After Oklahoma scores first in OT, Boise State lets a halfback take the direct snap on 4

th

-and-2, and the halfback throws a touchdown pass. Naturally.
Boise State goes for the win instead of another overtime, and on the ensuing conversion attempt, they pull out the Statue of Liberty! This was the point where I screamed out loud in my apartment.
You can witness the insanity below, and the sequence is (hyperbole aside) maybe the most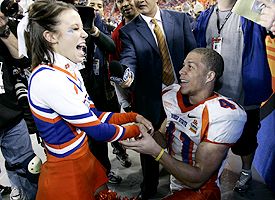 amazing thing I've seen in sports. By the end of it, I wouldn't have been surprised to see Rudy or Radio make a play. The playcalling of Boise State is the true mark of a coaching staff whose collective cojones cannot be contained in Tostito's bags. Oh yeah, after the game, Ian Johnson (who scored the winning conversion) proposed to his cheerleader girlfriend. Unfortunately it was ruined by FOX blowhard Chris Myers interviewing Johnson (with his girlfriend right there) and saying "So I guess you're going to propose to your girlfriend now." Way to ruin the surprise, Myers! Why don't you remind them that Boise isn't even really a state while you're at it, killjoy.
UPDATE:
Here's the Chris Myers fiasco, about 1:00 into the clip below. Gotta love how dismissive he is in introducing the whole thing. And I have no idea who the local sports hack is that pops up at the end of the clip.