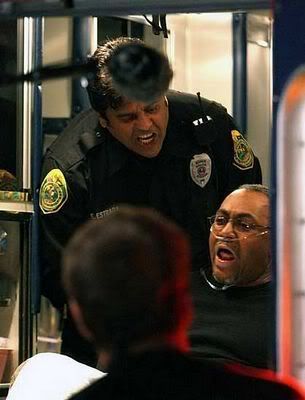 Watch the video here. The reaction of the woman wearing the Bears jersey when she realizes who she's talking to is tremendous.
MUNCIE -- After being stabbed in the leg, a community activist got into a shouting match in an ambulance with a star of a reality show being shot in Muncie, Indiana.
Randall R. Sims, 53, was listed in fair condition Thursday at Ball Memorial Hospital, according to hospital spokesman Neil Gifford.
Before being taken by ambulance to the hospital, Sims exchanged angry words with -- and announced plans to sue -- actor Erik Estrada, a reserve city officer starring in the CBS-TV reality series
Armed & Famous
.
Muncie police arrested Cynthia Shouse, 28, on a preliminary charge of domestic battery with a deadly weapon. She was being held without bond Thursday in the Delaware County jail.
Two boys in Shouse's home, ages 10 and 11, were released to a grandmother, according to police reports.
Police responded to Shouse's residence around 11:15 p.m. Wednesday after the woman called 911 and reported Sims had been stabbed, police reports said.
"Basically, they got into a fight," MPD detective Barry Privett told The Star Press. "There was probably alcohol involved, and she ended up stabbing him."
"Shouse indicated that she had been drinking with Sims and that he was abusive to her and that she stabbed him because he would not leave and would not get off of her," the affidavit said.
Police believe Shouse might have been acting in self-defense, but because she was uncooperative, they were forced to arrest her, Privett said.
Celebrity officer Estrada assisted at the scene and eventually became involved in a shouting match with Sims in the back of an ambulance, which Estrada had entered after being asked to remove handcuffs from Sims's wrists.
The argument began when Sims -- who referred to Estrada by the name of another Hollywood actor, Emilio Estevez -- said he didn't want to appear on
Armed & Famous
and intended to sue the former CHiPs star.
Sims is best known locally for his role in ultimately successful efforts to persuade city leaders to rename Broadway in honor of slain civil rights leader Martin Luther King Jr.
Apparently referring to those efforts, Sims told Estrada he knew nothing about King and had only been in Muncie "for two days."
Estrada told Sims he had been in town for six weeks, also noting he had been born in a Harlem hospital and grew up in Spanish Harlem -- a Manhattan neighborhood that has battled problems with crime and poverty, and was cited by King in a landmark 1967 speech in which he called for an end to the Vietnam War.
The encounter between Estrada and Sims ended with an exchange of obscenities before the celebrity officer left the ambulance.
Muncie Police Chief Joe Winkle said Thursday night that he had not yet seen footage from the event and could not comment on whether Estrada had acted appropriately in his dealings with Sims.
In the past 14 months, Sims has twice been charged with driving while intoxicated, in November 2005 and again last Oct. 26. Both cases are still pending in Muncie City Court.
Shouse was convicted of burglary in 2000, and remains on probation in that case, according to Delaware County court records.
She also has misdemeanor convictions for driving while intoxicated (in 2002 and 2004), criminal conversion (2002), battery (2003) and driving without ever receiving a license (2005).
While Shouse was uncooperative, police also filed a battery report on her behalf against Sims, Privett said.
Police also cited Sims for disorderly conduct, a misdemeanor.