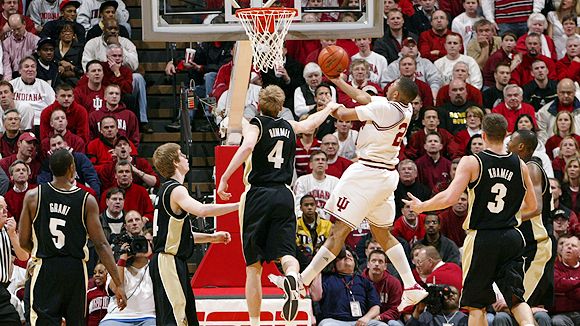 Eric Gordon. Really?
Numerous times last season I put on my best face and tried to control my paralinguistics enough to convey sincerity and approached an Indiana fan. I had one question for them. How much will it take?


Indiana had arguably the best guard in the nation in Eric Gordon, and they only had him for one season. There was no doubt that Gordon's time in Bloomington was fleeting, and the Hoosier faithful would only get one chance at...whatever it was they wanted? So I asked, "How much will it take to make you happy?"


Was it a national championship? a deep tournament run? a Big Ten title? What result could leave them satisfied after entering a season with limitless potential.
Interestingly enough, not too many of them had an answer.
And all

told you so's

aside, I don't think the aftermath could have been much worse.

Now's time to pose the question to the Boilermaker faithful: What will it take to leave us fulfilled this basketball season that kicks off Friday with Mackey Madness?

To say that Purdue fans are pumped about the upcoming season would be quite the cliched understatement. Taken within the context of the abysmal football endeavors to date, the basketball

horizon is mouth-wateringly exciting. Take a look at these tangibles



Multiple nationally televised games

Non-conference matchup with Davidson (possibly twice)

A berth in the preseason NIT

Hosting Duke in the Big Ten - ACC Challenge

The lone Indiana game is at Mackey

Games against five different Indiana schools

A season ending game at potential Big Ten powerhouse Michigan St.
Then we can enter the realm of the borderline ridiculous
In a May 2008 visit to Las Vegas, the Caesars sports book had Purdue at an 8/1 opening to

win the national title, second to North Carolina's 4/1. I've seen it higher at 20/1



The highly touted arrival of Lewis Jackson
The immeasurable pressure of surpassing last year's over-achieving squad.
All of this reminds me of an anecdote for Cubs fans: the optimist sees the glass half full, the pessimist half empty. The Cub fan is just waiting for the glass to tip over.
While I don't think the pessimism in West Lafayette is anywhere near that level of futility, it does remind us once again - as if Boiler fans needed to be reminded - be cautious.
What do we want? My enormous expectations tell me I'll take a win over Florida Southern for now.